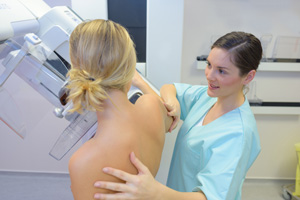 We offer a full range of breast imaging services that aid in the screening, diagnosis and treatment of breast cancer. Our mission: To detect breast cancer earlier.
3D Mammography
Mammography uses low-dose x-rays to examine the breast for tumors, small clusters of calcium and abnormal changes in the skin. During the procedure, the breast is compressed between two plates in order to even out the tissue and keep the breast completely still.
We recently upgraded our entire mammography system to 3D mammography. 3D mammography offers clear advantages in the earlier detection of breast cancer, particularly in women with dense breasts.
A 3D mammogram produces sharp digital images of the breast. The radiologist can view and manipulate the breast images on a high-resolution monitor that enhances the visualization structures within the breast tissue. The radiologist can adjust brightness and contrast, and zoom in on specific areas that help detect small calcifications, masses and other changes that may be signs of early breast cancer. From the patient's standpoint, the procedure is virtually identical to traditional mammography, but the exam is shorter, with less radiation exposure.
For women who are at average risk of developing breast cancer, the American Cancer Society recommends an annual mammogram for women over 40. For women with high-risk factors (family history of breast or ovarian cancer; previously diagnosed with breast cancer), annual screening should begin at age 30 unless otherwise directed by a primary care physician. Click HERE for more information on Mammography.
Mammotome® Breast Biopsy System
The Mammotome® Breast Biopsy System is a minimally invasive outpatient procedure that allows tissue to be removed from the breast without a surgical biopsy. This technique can be performed under local anesthesia at St. Thomas Radiology Associates. The Mammotome is a needle device that uses vacuum-assistance to remove breast tissue through a small nick in the skin. The breast tissue is then evaluated to determine whether or not cancer is present. Occasionally, it is still necessary to perform surgical biopsies, especially if the Mammotome biopsy results are unclear and the patient has high risk factors for developing breast cancer. Click HERE for more information on Mammotome® Breast Biopsy System.
Breast MRI
Breast MRI is a noninvasive procedure that produces a three-dimensional image of the breast. During the MRI procedure, a contrast agent, gadolinium, is injected intravenously to "light up" areas where masses and irregular blood flow patterns are present. These factors can be early indicators of cancer. There is no flattening or compression of the breast during MRI, and there is no radiation exposure. Regardless of breast density, if cancer is present, breast MRI will detect it 95-100% of the time. This is compared to mammograms, which detect cancer 80-90% of the time. Click HERE for more information on Breast MRI.
Ultrasound
Ultrasound imaging provides a picture of breast tissue located directly beneath the surface of a hand-held transducer. During an ultrasound exam, the transducer is moved across the surface of the breasts to create images of all of the breast tissue. Ultrasound technology was originally used in breast diagnostics to determine cysts (fluid) from solid masses. Improvements in technology, however, have now made it possible for an ultrasound to be helpful in determining whether or not an area of concern is benign or malignant, often without biopsy. Patients with markedly dense breast tissue on mammography might want to consider this option, in addition to their yearly mammograms.

Click HERE for more information on Breast Ultrasound.
Helpful Links