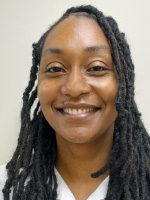 Mahogany J. Ambrose, MD was born and raised on the island of Dominica. She relocated to St. Thomas, US Virgin Islands in 2005 and earned a BS in Biology from the University of the Virgin Islands (2010) and her MD from Meharry Medical College (2016). She completed a general surgery internship (2016) prior to diagnostic radiology residency at the University of Washington (2021). Dr. Ambrose then completed a fellowship in breast imaging at H. Lee Moffitt Cancer Center & Research Institute (2022).
Dr. Ambrose is board certified in diagnostic radiology and interprets mammograms, X-rays, Ultrasounds, CTs, MRIs, and nuclear medicine. She also performs image-guided breast biopsies, image-guided therapeutic breast cyst aspirations, and wire localization.
We are thrilled to have Dr. Ambrose as a member of our practice.