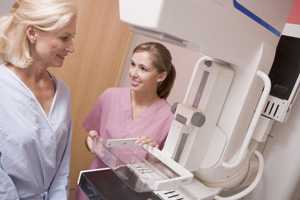 At St. Thomas Radiology Associates, caring for women is a way of life for us – that's why we offer a comprehensive range of services to aid in the screening, diagnosis and treatment of conditions that affect women.
Our Women's Imaging Center is an area in our office that is completely dedicated to serving the special needs of women. It provides a dressing area along with a private, comfortable space where women can relax before and after their procedures. The Center is staffed with female technologists who offer a friendly, caring approach to each and every patient.
We are committed to bringing women the most advanced radiologic care available today. Recently, we raised the bar on our mammography services by converting our entire mammography operation to digital mammography. Digital mammography can detect breast cancer earlier, so we've made it our standard.
Breast MRI is offered at St. Thomas Radiology Associates. Breast MRI should be performed on all women who have previously had breast cancer, who have a family history of breast cancer or who are at increased risk of breast cancer.
Helpful Links