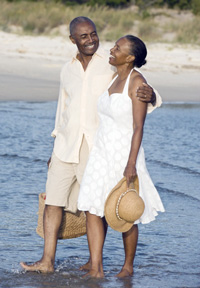 Approximately 25 percent of all women and 15 percent of all men suffer from varicose veins. The traditional treatment for the condition was stripping and ligation, a solution many patients found very painful. Recovery time could be as long as six weeks. Now, St. Thomas Radiology is offering a far simpler more effective office procedure called Endovenous Laser Treatment (EVLT).
The treatment of varicose veins depends on several factors, including the severity of symptoms, the pressure in the veins and the presence of inflammation. In the early stages, patients are advised to keep the affected leg elevated as much as possible and to wear supportive elastic stockings to relieve the aching and swelling. However, these strategies do not cure the condition, and many people elect to have varicose veins repaired.

There are a number of strategies available for repairing varicose veins. The goal of each strategy is to eliminate the varicose vein detouring blood flow through normal vein channels. These strategies include:
Compression stockings have been shown to improve blood flow in leg veins. Patients with mildly symptomatic varicose veins will often be treated with compression stockings before other invasive treatments are considered. Most physicians consider compression therapy a necessary adjunct to any surgical therapies, to be initiated before and maintained after treatment.
Vein stripping is a surgical treatment for varicose veins. In this procedure, damaged and dilated veins are tied off and surgically removed.
Endoscopic vein surgery is typically reserved for advanced cases of vascular disease involving leg ulcers. Surgeons insert a small endoscope (a fiber optic device equipped with a tiny camera) into the veins to visualize vascular abnormalities from inside the leg, and the abnormalities are then surgically removed.
Injection therapy (sclerotherapy) is recommended for patients with small varicose veins.
Endovenous laser ablation is a catheter-based outpatient procedure that uses laser energy to close the abnormal vein that causes the varicose vein. During this procedure, the physician inserts a long, thin tube (catheter) into the abnormal vein and heats the tip of the catheter. As the catheter is removed, the heat destroys the vein. Radiofrequencies can also be used to close the vein.
Ambulatory phlebectomy can be used to remove varicose veins through a series of tiny skin nicks under local anesthesia.
St. Thomas Radiology specializes in Endovenous Laser Treatment (EVLT) to treat bulging varicose veins. Referrals for the treatment of spider veins are provided upon request.